Our Services
Firearm Customization
Custom Engraving
We can custom engrave virtually anything, including SBR Markings, shotguns, rifles, pistols, revolvers, knives, handcuffs, flashlights and more. Providing a significant advantage in terms of control, safety, and reliability. Meeting all ATF requirements for serialization to uniquely identify each firearm. CNC marking systems are effective tools for direct part marking.
Custom Cerakote
Cerakote is a ceramic based finish that can be applied to metals, plastics, polymers and wood. The unique formulation used for Cerakote ceramic coating enhances a number of physical performance properties including abrasion/wear resistance, corrosion resistance, chemical resistance, impact strength, and hardness.
Custom Gun Parts
We can now make custom gun parts. You can easly change the look of your firearm with custom grips.
Sell Us Your Unwanted Firearms
Request a Quote for your Firearm
Selling your unwanted firearms at Highland Guns is safe and easy. Bring in those handguns, rifles and shotguns you no longer want. There are two methods you can choose from to sell your gun. Each provides various benefits and you are free to choose the method that best suits your needs.
1. Outright Sale to Highland Guns - Outright Sale to Highland Guns - This approach provides you instant cash and piece of mind as the transaction will be completed in minutes after the gun is evaluated by our sales associate.
2. Consignment Sale - This approach will normally net you the most money for your gun but you have to wait untill the gun is sold to receive payment.
Please click on button below to fill out our gun quote request form.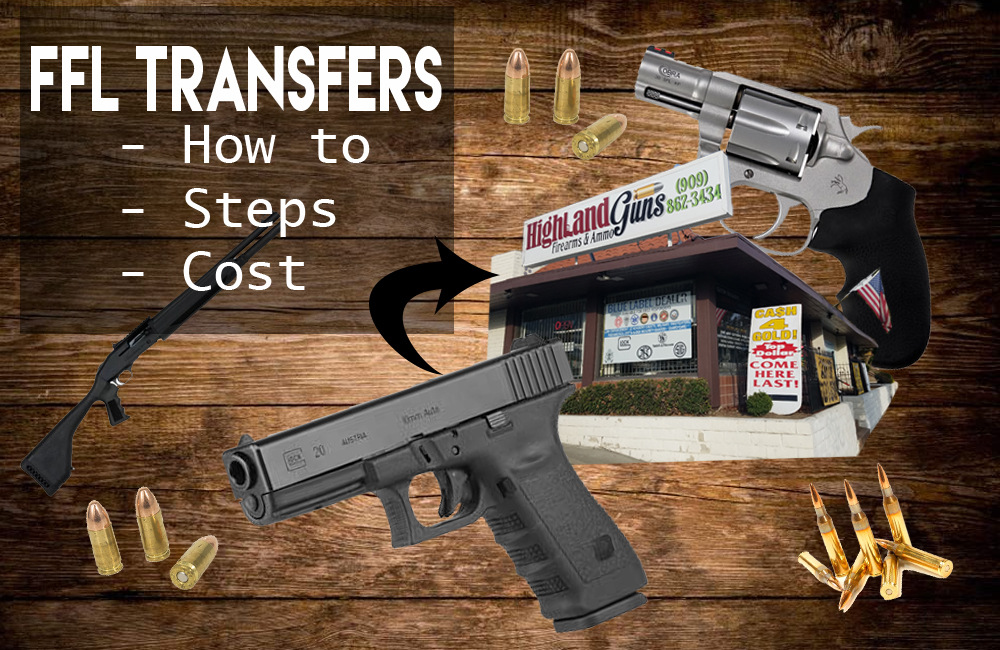 Firearm Transfer Procedure
Transfers
Highland Guns accepts incoming transfers and will be glad to transfer a firearm to you.
FFL Transfers are firearms shipped into an FFL from another location. Handguns must be shipped from another FFL dealer a private individual can not ship a handgun directly they must use a FFL dealer. Long guns can be shipped from either another dealer or a private individual. FFL Transfers MUST Be CALIFORNIA Legal. Handguns must be on the CA DOJ Roster of Approved Firearms. Law Enforcement are exempt from the handgun roster.
Please click on button below to fill out our transfer request form.
Fees
As of July 1st 2021 Incoming FFL Transfers are now $50.00 + $37.19 DROS (CA Background Check) + CA Sales Tax. All transfers from FFL dealers must have a CA Firearm Shipment Approval number. Transfers from private individuals are exempt from CA Firearm Shipment Approvals and CA sales tax. All firearms received from a private individual MUST have a clear copy of the sellers California ID included in the box.
Private Party Transfer (PPT)
A Private Party Transfer is a transaction between two separate individuals living in CA. Both the buyer and seller MUST be present for this type of transaction and must have a California ID. The PPT Fee is $47.19
Intra-Familial Firearm Transaction
Pursuant to Penal Code sections 16720 and 27875, a person that is at least 18 years of age and who has a valid Firearm Safety Certificate (FSC) may take title or possession of a firearm by gift, bequest, intestate succession or by other means from an immediate family member, in-lieu of completing the transfer through a licensed firearms dealer provided that the transfer is infrequent and that the Report of Intra-Familial Firearm Transaction is submitted within thirty (30) days of the transfer.
Pursuant to California Penal Code section 16720 an "immediate family member" means either of the following relationships: Parent and child, or grandparent and grandchild.
Do you need help?
We are here to help you