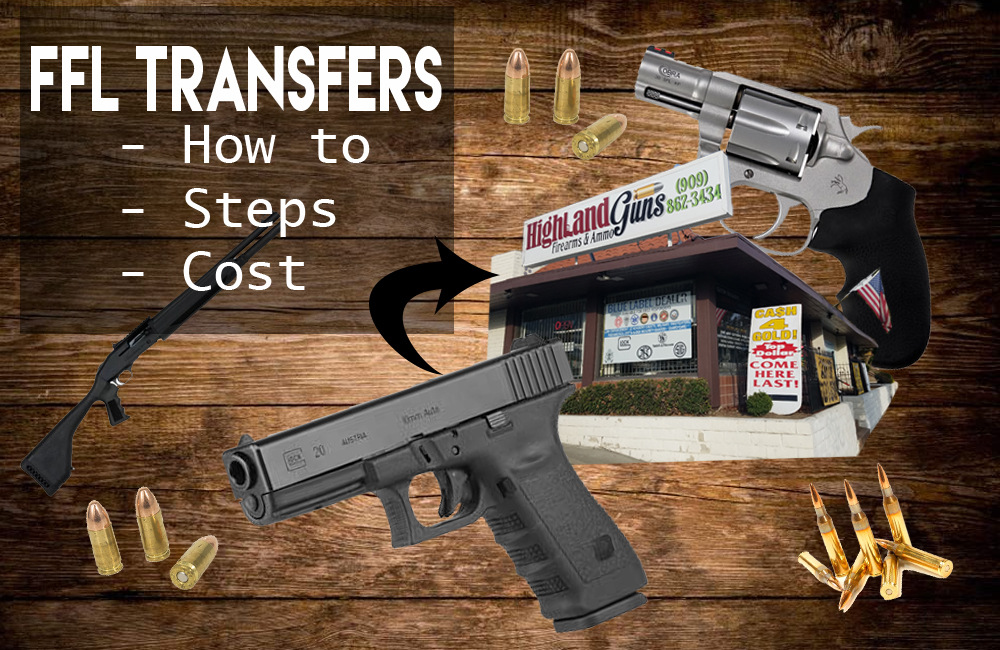 Need to transfer a firearm, we are here to help you!
Transfer Fees
DROS Fee: $37.19
Receiving Fee: $50
California Sales Tax: 10% of the purchase price of the firearm
*NOTE: As of November 1, 2011 the California Board of Equalization is requiring CA Firearm Dealers to collect CA Sales Tax on firearms purchased out of state and shipped to them for transfer.
*NOTE: If you are shipping a handgun to us it must be on the California Roster (unless you are active law enforcement), can be checked here. Long Guns must be California Compliant
Process
To request an FFL Transfer through Highland Guns, please fill out the form below. Once the Transfer Request form has been submitted, Highland Guns Staff will review it and initiate the transfer process with your shipping dealer. Once all required documentation* has been submitted electronically by the Shipping Dealer/FFL we will authorize the shipment of the firearm to us.
Once the firearm has been received and processed, Highland Guns Staff will call you and let you know your firearm is ready for you to come in and do the paperwork.
Please do not go by the shipment tracking info, just because it has arrived does not mean it has been processed and received.
Required Documentation
Shipping Dealer/FFL's Federal Firearms License
CA Dept of Justice Firearms Shipment Approval Letter (AI Letter)
Detailed Sales Receipt or Invoice
Please Note:
Due to change's in California legislation some firearms after January 1, 2017 will no longer be able to be stored, sold, transferred, or kept for sale within the state of California. "YOU" the customer are responsible for taking "PHYSICAL "possession of the firearm you purchased on or before December 31, 2016. Starting the background check process doesn't qualify as physical possession, the background check process must be started on or before December 21, 2016 and the firearm must be picked on or before December 31, 2016 NO exceptions! Highlands Guns will not be responsible for any firearms that are not transfered or picked up past the cut off date, all rights to the firearm will be relinquished and no refunds, monies or credits will be issued. We as the dealer must have all firearms affected by the new legislation sold, transferred, or relinquished by December 31, 2016. Please keep the following information in mind before purchasing or having any firearms shipped to this location. Sorry for any inconvience this may cause, for any questions regarding the above call 909-862-3434 during normal buiness hours for more details!!! By having a firearm transferred to this location you agree to the terms stated above!!!
Transfer Request Form
Fill out the form and we'll get back to you as soon as we can.
Fields marked with an asterisk (*) are required.
Do you need help?
We are here to help you